Do you seize all the potential of fairs?
We have been exhibitors now at two fairs. We shared a stand with three other companies at GoExpo and last week we had our own stand at the Congress fair. The decision to participate in the Congress fair by ourselves was born purely from the right target group. At this fair we could meet people who are responsible for the events and travels of their company. The fast schedule for the plans and decisions of the stand and all marketing materials had to be done quickly. I made an illustration of the stand as well as the list of materials so that it helped to give an overall picture of everything that should be taken into account.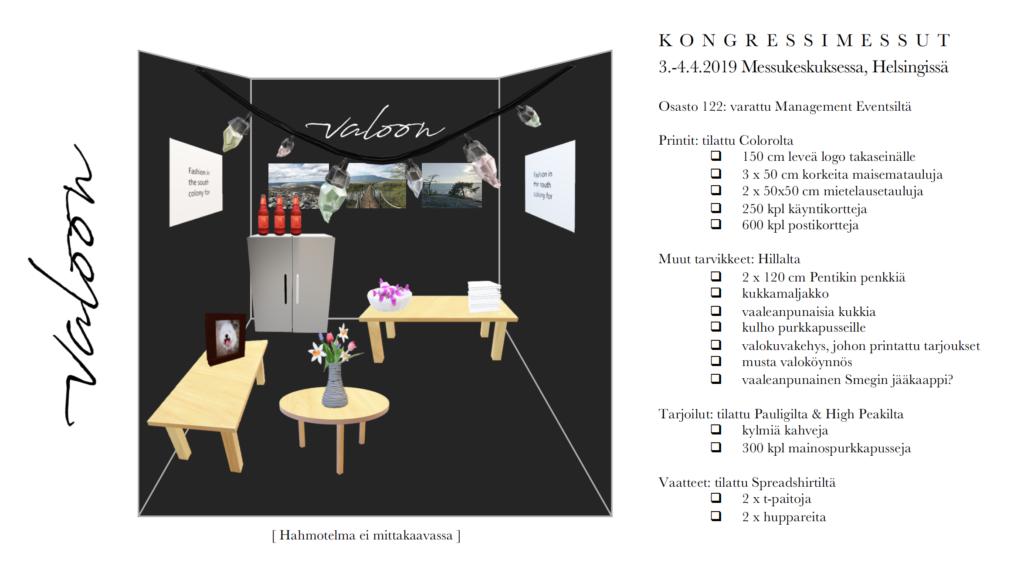 It is a good idea to make the illustration of the stand. The checklist also helps both design and implementation of the stand.
I hired Anna Poljakova, whom I had found from a magazine called Yhteishyvä. The article told about the Vamos service of the Helsingin Diakonissalaitos, which supports young people in to school and working life. Anna's energy shine through the article and I decided to contact her career coach Tomi Pohjalainen. That's how Anna was hired at the fair and hopefully I will be able to continue to offer her work. It's not recommended to do the work at the fairs by oneself, so Anna's help was more than welcome. Actually, I learned that in the future I will hire at least two young people at the fairs. And why just young people? For my part, I would like to help them to get employed and to gain more courage and work experience.
The work at fairs is really nice, but certainly also hard work. After each day I noticed that I've stood or walked all day and, of course, spoken my mouth dry. In addition to this, planning and implementation takes a lot of time and you should not forget the effort for stand demolition and post-marketing activities. Doing that I was wondering, do companies seize all the benefits from the fairs. I have spoken with many people about this and unfortunately it is seen that the money invested in fairs is wasted due to, among other things, passiveness. The exhibition offers (or free candy) will no longer move people, because the same offers are also available online. So how do fairs get more interesting and how could all get all the benefits of it?
When I was planning our own department, my first thought was that I want our stand to look quite different from the other stands – an inviting space that is comfortable to visit and spend some time. We managed to do this despite of the fast time schedule and the stand design got a lot of admiration. Small details such as landscape photos and new pink, caramel popcorn milk coffees from Paulig aroused people's interest. What about the people and the service? One of our values is "unforgettable experiences from human to human." I wanted people to face a genuine, heartfelt and approachable person who is active in customer encounters. This is the kind of person Anna just is. Two Annas would have been even better. Sure, I was delighted to hear how my activity was noticed. "You must be an entrepreneur yourself because you do your work with great enthusiasm!" True, but I am always striving to do my work well on the last, with great enthusiasm and a big heart.
The technology helps at the fairs a lot and the lead scanner could have worked in our case. It is good to learn things and development is always worthy. Despite the lack of a lead scanner, we succeeded to have good contacts with both potential customers and new partners. It was a pleasure to note that we were found and co-operation was seen as a positive thing. We do this together with the growing partner network. If you have got needs to think about the fair in a new way, let us help you. We have new perspectives and ideas on how to create an unforgettable experience at the fair.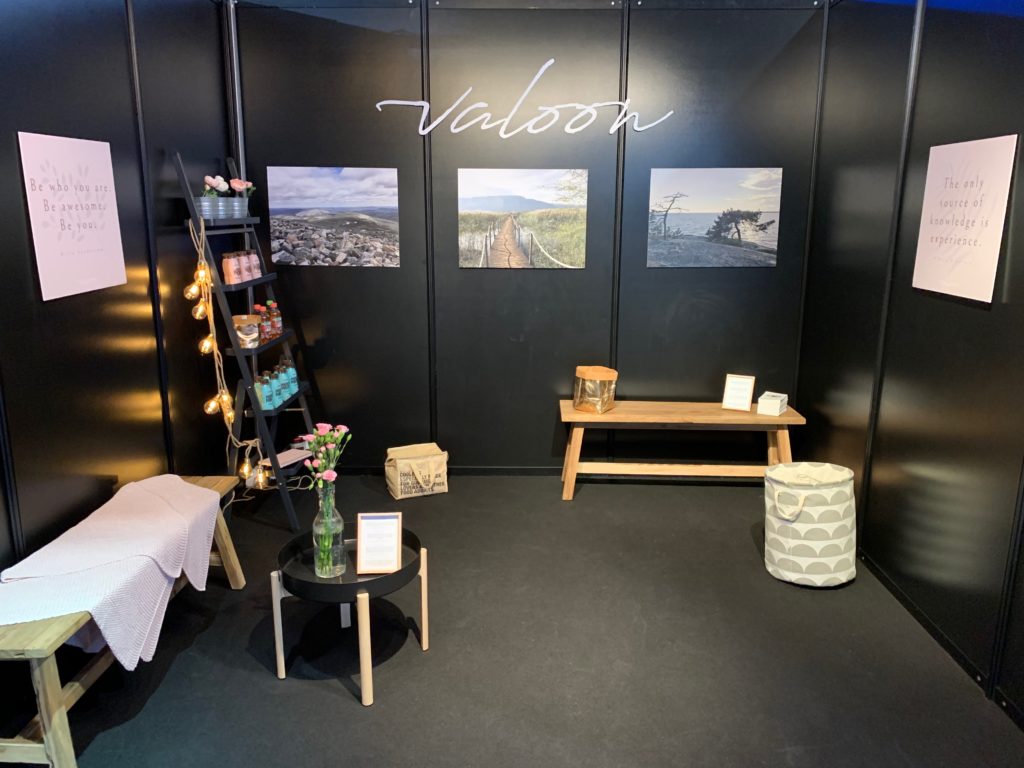 The end result was even better than planned and the fair department got a lot of praise.
There was one thing that I did plan, but didn't have time for – meeting other exhibitors. Of course, I got acquainted with many of them and picked up the best ideas, but I could have used this great opportunity even more efficiently if there were more staff at our stand. This is the way I would have been able to market our services to other exhibitors – they are companies and our customers are usually other companies. And even though they are ironed professionals and partly our competitors, they need the same care without worrying about anything. That's the way everyone can concentrate on themselves at the event or travel and get the most out of it. We also take care of our competitors.
One more thing that I've got to mention. We were also taken care of. When I was building the stand and agonized with the logo installation work, Patrik Gröndahl from Booth Group, who was building the stand opposite of our stand, was kind enough to ask if he could help. With Patrick's professional advice and special tapes, the logo and photos were made on the wall. Big thanks to a really friendly Patrick! Together we really do this. Together.
With a big heart
Hilla