Events
In these times it is very important that wellbeing at work is taken care of. Uplifting team spirit and a sense of belonging are emphasised when physical contacts decrease. Let us help you with this – we also do events virtually with our partners.
Business events, work wellbeing days and programs for groups
According to your wishes, we build unforgettable programs for groups, wellbeing days at work, business events and experience trips. We take good care of your groups. Our service path is consistent with your desires, but also with our image. Even the sky is not the limit of our creativity, because we work heads in the clouds, feet in the ground and with warm hearts, according to our values.
Your guests and colleagues are worth the best. Decide to bring them into the light. We promise good care ethically from the beginning to the end, as well as unforgettable experiences from human to human. Every day can be an experience with us.
Contact us and take your first step into the light. Let's start designing your important event or program already today. The initial ideas is free of charge and does not engage you in any way.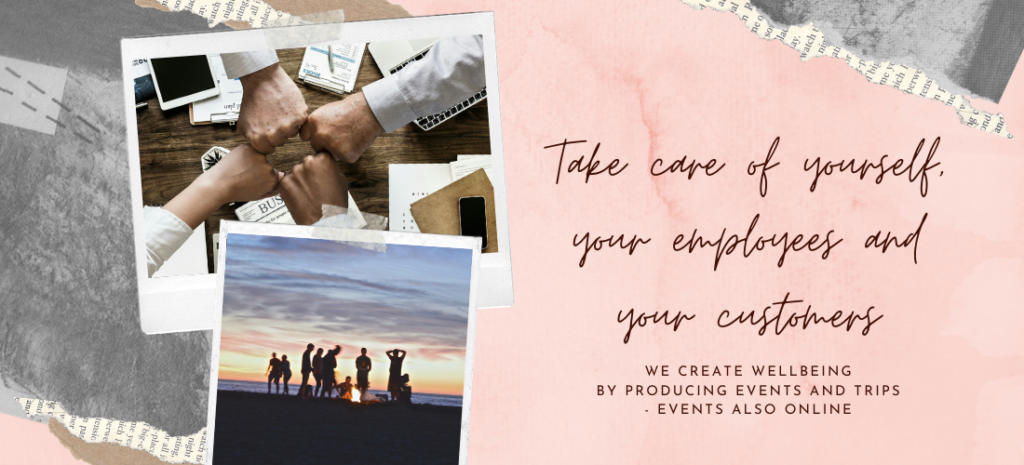 Benefits of our service for you
With short mathematics, the formula goes something like this: employee + wellbeing = a wellbeing company. Good wellbeing at work increases productivity and efficiency, reduces sick leave and increases the attractiveness of the company from the perspective of both the employee and the customer.
The same formula also works for customer relationships. When you take care of your customers and provide them with added value, they are more engaged and satisfied customers and are probably willing always to come back to you.
Our service not only increases your wellbeing and competitive advantage – it saves your time and money. You are able to focus on your core business, we focus on our own by organising events and trips for you. It makes economic sense to transfer the extra tasks to external professionals.
Responsibility, sustainability and engagement have increased in companies' soft targets. These objectives determine the development of the event and tourism sector, and Valoon wants to be a trendse in accordance with its similar value base.
Read more about our blog, where we will tell you more about studies, statistics and trends in the field.
---
CALL US ON +358 40 5944 952
OR LEAVE A CONTACT REQUEST HERE: